About Us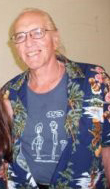 Mayflower Unlimited is a publishing company devoted to freedom. We publish articles, books, cartoons, postcards, and t-shirts designed to aid you in realizing your intrinsic right to liberty and how it applies to your life. Our purpose is to inform, entertain, and inspire.
Mayflower Unlimited's other domain names:
BadTasteTshirts.com (points to the T-Shirts page in this web site)

CopsNDopers.com (opens in a new tab or window)

Andrew Von Sonn (November 5, 1940 - October 9, 2015), founder and original director of Mayflower Unlimited, was an extraordinary human being - a man with great integrity, a lawyer and defender of citizen rights, a writer, cartoonist, musician, and father who lived and worked on the north shore of Maui in the Hawaiian Islands.
Andrew Von Sonn graduated UCLA School of Law in 1970 and was licensed to practice law in California and Hawaii. Earlier in his career, he was a starting linebacker for the Los Angeles Rams in the National Football League. He was also Captain of the UCLA Bruins football team. He is greatly missed by all who loved him.
Just prior to his (unexpected) passing, Andrew Von Sonn had just completed a new book that will be published posthumously. After his passing, all of Mayflower Unlimited's inventory was carefully placed in storage with plans to make it available again the future.
Please contact us for more information or to be informed when Andrew Von Sonn's products are made available again.