Bad Taste T-Shirts

Mayflower Unlimited has designed and produced dozens of high-quality shirts that are fun to wear and carry a message on one or both sides. Twenty of our Bad Taste T-Shirts are featured below.
Note: This web page is directly available via BadTasteTshirts.com.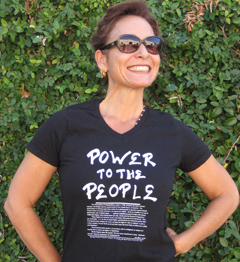 After the (unexpected) passing of its founder, Andrew Von Sonn, in October 2015, all of Mayflower Unlimited's inventory was carefully placed in storage with plans to make it available again the future.
Please contact us to be informed when Andrew Von Sonn's Bad Taste T-Shirts are made available again.
All of our Bad Taste T-Shirts are 100% cotton, except for grey shirts which are 90% cotton and 10% polyester.
For men and women from extra small to XXL. T-Shirts, Tank Tops, and Spaghetti Straps. Colors include white, black, blue, baby blue, navy blue, silver blue, cream, emerald, forest green, grey, maroon, mustard, orange, pink, red, and yellow. Two of our shirts even glow in the dark!

Click on thumbnail images below to see larger versions.
(If Javascript is not enabled, images open in a new tab or window.)




01 - Stand Up And Dance

02 - Step Out Of Line While You Still Can.

03 - I Heard It On The News. It Must Be True.

04 - Loading Zone

05 - Incurable

06 - I'm Planning To Shift My Paradigm

07 - Power To The People

Glows in the Dark!
Two-sided shirt w/Declaration of Independence on back.

08 - Peaceful Anarchy

Glows in the Dark!
Two-sided shirt w/Declaration of Independence on back.

09 - Disidentify From Mind (Midget Guru Strikes Again)

10 - If Not Now, When?







11 - Everything Is Transitory

12 - I'm A Stranger In Town

13 - So Long, Suckers

14 - Please Send Confirmation

15 - Speedo Man

16 - Big Brother Is Watching

Glows in the dark!
Two-sided shirt w/Declaration of Independence on back.

17 - Eddy In America: Holiday Thanks

Two-sided shirt w/Declaration of Independence on back.

18 - Eddy Ponders Existence

19 - Eddy Spouts Off

Two-sided shirt w/Declaration of Independence on back.

20 - Eddy Presents: Welfare Money

Two-sided shirt w/Declaration of Independence on back.




21 - Break The Spell - Be Free